Posted by Most Insurance on March 14, 2011 one response
A Crash killed four teens early Sunday Morning… Alcohol was not a factor we are told by the state agencies.  This is truly a tragic, 4 young teens with their whole life in front of them.  We do pray for their families, during this tragic time.
The Tampa Metro area, is the deadliest for Teen drivers in the united states.  We can hardly go a week without hearing about a teen-driver killed here in the Tampa area, and that pains us.  I have shot a video and loaded it on our research page, explaining what you can do to help protect your children from having an incident as well.  In a nut shell there are some things that can be done to protect your teens.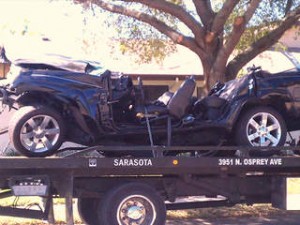 1. Limit the time of day that your teens drive
Limiting them to only daylight hours has an increased potential for not being involved in such an accident.  Most of the accidents that kill teen drives happen after dark and before light.
2.  Limit the Distance from Home
Most accidents for teen drivers happen when the teens are driving in unfamiliar areas. Limiting their radius can help protect them.
3. Limit the number of co-occupants in the vehicle.
Teens can be easily distracted, and it has been found that the more friends are riding with them the more likely they are to have an accident.  Have 3 passengers can dramatically increase the odds of having an accident.
4. Limiting the Speed they drive
Speed kills, especially for teen drivers, limiting a teen driver speed really increases the safety of the teen.  I suggest for new drivers that they not drive over 45mph, until they become much more comfortable.
5. Other distractions.
Not texting, not Talking on their phone even using hands free, not looking for music on an ipod, all help everyone drive safer.
Through one of our insurance companies, Safeco, we have access to a really neat piece of equipment you can install on your teens car, to help protect them.  This is a GPS tracking device that you can set the different parameters on, and if any of them are broken you receive a text message, email, or phone call letting you know. You can set three things on it.
1. Time of day
2. Distance from a single point.  Like a radius around your home
3. Speed, you can set a speed limit and if broken you are notified immediately
These are not meant to be punitive but to help protect and save lives. Looking for a Tampa Auto Insurance quote? Click on the link for all the information. Browse through our Auto Insurance Blogs for more useful tips.
For more information please contact me at the office at 813-347-5555, or send me an email.