I have always had exceptionally great service
"I have always had exceptional service from Most Insurance. They always return my calls in a timely manner."
Joe Morales
(Four Dwelling Fire Insurance Policies)
Florida Renters Insurance
So you are renting, and you want to know if you really need Renters Insurance. You are also probably curious how expensive Tenant Insurance is.  I can totally relate… my wife and I just sold our home, and we are renting a place while we build a new one. For this we are very excited, but the first thing I did was go to one of our Account Managers at Most Insurance Agency and had them put some quotes together for me. I  knew I needed Tenant Insurance. While I'm concerned about something happening to my stuff, I'm even more concerned with someone getting hurt while at my Apartment. Tenant Insurance does provide Liability Insurance, and because I have an Umbrella Insurance policy that covers Excess Liability, I need to keep at least $300,000 worth of coverage on my tenant or Homeowners Insurance policy. As litigious of a time we live in, I'm not willing to run the risk of just hoping nothing will happen. Another benefit a Florida Renters Insurance policy provides for you is contents coverage. This is meant to protect you in case something h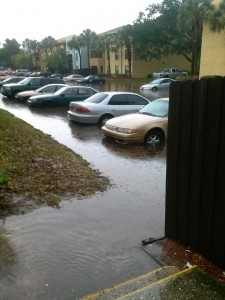 appens to your belongings. Typically a good starting point for a younger single person is $25,000. If you are a younger couple I would start with about $50,000 coverage. You can always purchase more coverage, but that is usually a good staring point.
Here at Most Insurance Agency we are often asked if you should have Flood Insurance, even if you are just renting. To the right is a photo that one of our employees took the other day at her apartment. This was just from a late afternoon thunder storm. If this doesn't convince you, let me please encourage you to purchase Flood Insurance unless you are, say, on the 4th story or higher. Flood Insurance really costs less than $1/day.
To find out the best Florida Tenant Insurance costs, fill out the quote request form on the top of this page, or give our office a call at 813 739-8111 today.
Get a FL Renters Insurance Quote