Very helpful and truly seemed to care
"Most Insurance was very helpful and truly seemed to care."
Motorcycle Insurance Quote in Tampa, Florida
We understand what you love about your bike. Hey,  4 wheels move the body, but 2 wheels move the soul…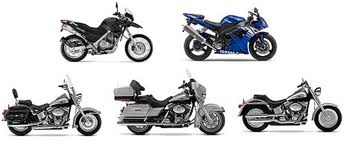 Even though your riding may give you a sense of freedom that even a convertible cannot provide, you still have to worry about the statistics. Those statistics show that motorcycle injuries and fatalities make up a huge percent of all traffic injuries and fatalities. This is why you need to purchase your FL motorcycle insurance policy.
Everyone may know that Florida's No-Fault, or "PIP Law" does not apply to motorcycles. HOWEVER, the Financial Responsibility Law does apply to ALL motor vehicles in Florida, including motorcycles. So unless you are  financially independent and have a filed financial responsibility certificate, an insurance policy should be on your MUST list.
Not only do you have to carry Financial Responsibility, which is most commonly provided by  both Bodily Injury and Property Damage Liability insurance, you should also carry uninsured motorist coverage.
There is a very good reason why uninsured motorist coverage costs so much on a motorcycle insurance policy, and that is because the likelihood of you needing to use that part of your insurance.
In a report provided by Chanyoung Lee, Ph.D., PTP with (CUTR) Center for Urban Transportation Research, we are told that in 2009 the median hospital charge for motorcyclists admitted to an acute care hospital in Florida for nonfatal injuries sustain in traffic crashes was almost $53,613. And 49 percent of those charges were not paid for by insurance because they were not insured.
Don't be the only person to not have a Tampa Motorcycle Insurance…Fill out the FREE Motorcycle Insurance Quote Form below to get insured now. Don't assume having insurance is beyond your reach. Just because you may have an infraction on your driving record doesn't necessarily mean that you are not insurable.  In fact, coverage may cost less than you think, not breaking your bank after all.
How Can Most Insurance Help You With Your Florida Motorcycle Insurance?
Most Insurance deals with all the best motorcycle insurance carriers, and we know what we are doing to make sure you are properly covered. Fill out the quote request form now, and we will get you covered today. Soon we will have an option to click and buy right away from some of our carriers. Fill out the protection request form or better yet, give our office a call today at 813 739-8111 and let the professionals at Most Insurance  help you be properly protected so you can stop worrying if you have the right insurance and just enjoy the freedom you have on your bike!
Get a FL Motorcycle Insurance Quote