Posted by Most Insurance on June 09, 2011 No responses
I'm asked all the time do I really need uninsured motorist coverage on my auto policy, and so I thought that I would try to explain what uninsured motorist coverage is, and why it is very important to have on your car insurance policy.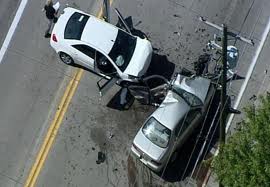 Uninsured or underinsured motorist coverage pays for damage that results from an accident caused by an uninsured motorist, or one that doesn't have enough insurance. Uninsured or underinsured motorist coverage is for medical bills, work loss, and pain and suffering caused by the negligence of an uninsured or underinsured motorist.
Alright so is uninsured motorist coverage important? Absolutely! In my opinion it is the most important coverage you can have on an auto policy,  you should also have it on an umbrella insurance policy.
A good friend of our agency Henry was driving in the Tampa Bay Area, and was in Clearwater on a Sunday morning crossing US 19 and Gulf To Bay Blvd by the Sams Club, when a driver ran the light on US 19 and t-boned Henry and his wife on the passengers side.  Henry and his wife we both had head injuries and were rushed to the emergency room.  Henry was able to be discharged after only a couple of nights, his wife had to be kept in the ICU for more than 3 months.  She was a house wife, and when she finally was able to go home it was in a hospital bed.  She has required now for several years to have around the clock assistance, both for taking care of her, and for taking care of the house, as Henry has had to keep working.  While this is a tragic situation, Henry knew the importance of uninsured motorist coverage, and the importance of an umbrella policy.  they carried 2 million dollars worth of uninsured motorist coverage on their umbrella policy. Because they had this coverage they have been able to pay for the medical bills, the in home care, and the services of someone to cook and clean.  It doesn't matter how much insurance the other driver had, in a situation like this it isn't enough.
Stories like this, true stories I hope will convince you as I have been convinced to carry uninsured motorist coverage on your florida auto insurance policy and on an umbrella policy.