Posted by Most Insurance on April 15, 2013 No responses
2013 hurricane Predictions are in and its predicated to be an above average season…
The Colorado State University team who makes the Hurricane Predictions are predicting an above-average Atlantic basin hurricane season with 18 named storms and about a 72% chance one will make landfall somewhere along the entire Eastern seaboard.
Four of those are expected to be major hurricanes, by major they mean with winds greater than 111 MPH.  That is faster than the best baseball pitchers can pitch.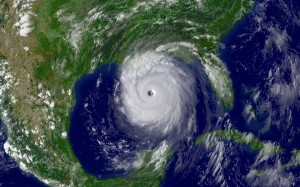 It would seem that there is not an El Nino event this year, which I have to be honest I never really understand, maybe someone can help explain that one.
The Colorado State University team is predicting a 48 % chance that a major hurricane will make landfall in Florida.
The hurricane season begins June 1, and runs all the way till November 30th.  You will remember that Super Storm Sandy started off as a major hurricane and made landfall on October 22, 2012. While very late season storms are not as common, they do seem to be very catastrophic. In-fact 90% of all Atlantic hurricane activity takes place during the months of August, September, and October, with the most active dates landing between August 25th-September 25th. So you may be asking how accurate are these predictions, well in one report I read and I quote…
"Meteorologists are known to be absolutely brilliant at after-the-fact explanation of weather phenomena… but please don't press us too hard on future events!!"
3 tips to help make sure you are prepared on the insurance side of things in case these predictions pan out:
Make sure you are adequately insured with both hazard insurance, and Flood insurance.
Deal with an independent insurance agency who specializes in helping their clients with insurance claims.  At Most Insurance we have created a one of a kind Claims Advocate position to help hold the hands of our clients throughout the claims process.
Do a full innovatory of your home. Know Your Stuff is a great free app for helping keep track of all your stuff. This is very helpful if there was a claim. This app is available on both Iphone's and Android devices.  You can keep track of all your belongings, including keeping our information on hand.
Have questions please give our office a call 813-347-5555, or fill out a contact request and we will be right in touch with you.
Grace and Peace
Eric Most