Posted by Most Insurance on August 01, 2014 No responses
Here at Most Insurance, we are constantly thinking of ways to provide our clients with expert help, reliable service, and trusted education about the ever-changing world of insurance. That's why we are so excited to announce that Dave Ramsey has brought us on as an Endorsed Local Provider (ELP) Home Insurance and Auto Insurance for the greater Tampa Bay area. This relationship will enable us to do just that.
 Dave Ramsey has been a trusted financial authority for over 20 years. He is the author of six best-selling books on the New York Times, Wall Street Journal, and Publishers Weekly lists including, Total Money Make Over and Dave Ramsey's Complete Guide to Money. He is also the host of the national syndicated radio program, The Dave Ramsey Show, and founder of Financial Peace University. He has been voted the second most influential personal finance expert in the nation according to Cision Broadcast Services and moneytips.com. He combines his experience and expertise, along with Biblical wisdom, to help people make sound financial decisions and begin their journey to living debt-free lives marked by generosity.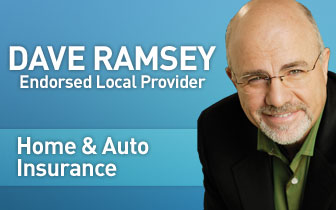 As an ELP, we will have the opportunity to assist Dave to that end. Insurance is a key ingredient to the  journey toward financial peace. Not just having insurance, but having the right insurance for you; insurance that covers you properly in your time of need. That's why we're so excited that Dave has chosen to partner with us. Together, we desire to see people's lives changed through proper money management.
"We're grateful for the opportunity to play a part in people's journey toward financial peace," said Eric Most. "It's humbling to have Dave recommend us to his listeners for their insurance needs."
If you're curious as to why Dave Ramsey would choose to endorse Most Insurance, we'd love for you to fill out our form below so that we can serve you with any insurance guidance you may need. We truly do care here at Most Insurance. It would be an honor to serve you.