Posted by Most Insurance on May 29, 2012 No responses
In a previous post I wrote about how many people think us insurance agents get a special deal on our auto insurance, and I did explain how I'm hoping to get a 30% discount on my auto insurance, but this was avaible for anyone not just insurance agents like myself.  Or office has been helping many people save money on their insurance, and we are happy to help you as well.
I wanted to update you, and answer a couple of questions that some folks have asked.
My snapshot widget from Progressive Insurance has been installed in my car for a couple of weeks now, and so far so good!  I think I'm well on my way to saving 30% on my Auto Insurance.  Thanks to my rep Sylvia Sarkissian at Most Insurance, yes she is the one that got me all set up on this, hopefully I'll end up saving $389/ year on my auto insurance.  I took a look at my latest report, so far I have 0, that ZERO hard stops, my longest mileage for any one day was 23miles, but my average daily mileage is only 11 miles, and I haven't driven past midnight, or before 4am yet.
I have had a couple of people ask me where it gets installed the Snapshot widget gets plugged into your OBD port, on On Board Diagnostics port, most of the time it is under the steering wheel.  It was really easy to install, anyone can do it.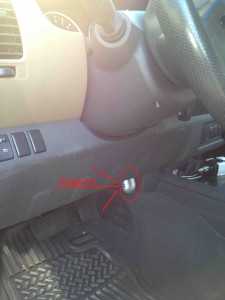 Some people where concerned about Big Brother Following them.  Two things about that.  One the Snapshot from progressive doesn't have a GPS built into it, so they are not tracking you.  But the other thing is your cell phone does have a built in GPS, and I'm sure there are some people tracking all of us.  I'm not sure why anyone would like to track me but I'm sure someone is.
Here is a hint to help you remember you have the Shapshot installed.  I made a sign to help remind me to drive conservatively.  This should help remind me and Jacqie when we get in the car to take it easy and no hard stops, I have the signs on my radio, and rear view mirror!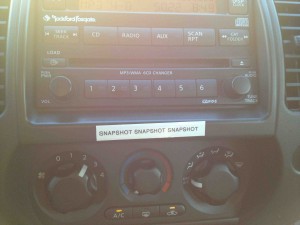 So far that label has been a great reminder.
If you have any questions about the Snapshot, or anything else give me a call at the office. (813) 739-8111 I would love to help you out anyway I can.
Grace and Peace
Eric
Looking for a Tampa Auto Insurance quote? Click on the link for all the information. Browse through our Auto Insurance Blogs for more useful tips.