Posted by Most Insurance on June 25, 2012 No responses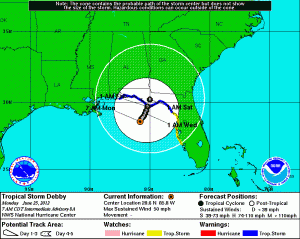 Happy Monday morning to you,  I do hope that you are not one of the many who have been flooded out, or flooded in.  Looks like we are going to have some funny wet weather this week, thanks to Tropical Storm Debby, who looks like she wants to stick around awhile and help us get out of drought conditions here in Florida.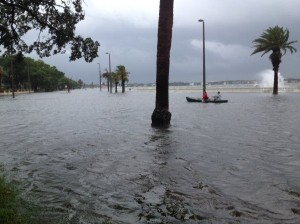 Jacqie asked me if I wanted to take our kayaks out on Bayshore last night, and while I really did, I was worried we might get a little wet, so we decided to stay home.
When I was awoken this morning at 3:00am, to the sound of the wind and the rain, I did think for a moment that I might have to Paddle into the Most Insurance today.  Thankfully Mac Dill was open, and I was able to drive.  Looking at the radar though makes me wonder how getting home is going to be.
How has the storm been in your neck of Florida?  Would you post some pictures to our facebook page?
Hopefully this emphasizes the need for Flood Insurance, I hear it all the time "but Eric I don't need flood insurance, I don't live in a flood zone."  And I reply, everyone, I repeat everyone lives in a Flood zone, you just might live in a preferred risk flood zone.  But did you know that over 38% of all Flood claims happen in preferred risk zones?  Did you also know that Flood insurance when you live in a preferred risk zone is very inexpensive.
Give our office a call at in Tampa 813-347-5555, or Pinellas 727-347-5555, Orlando 407-900-6678, or anywhere else in the state at (813) 347-555, and we will be happy to explain the pricing, how flood insurance works, and write you a policy today.  Just remember there is a 30 day waiting period for all preferred risk flood insurance policies.
Or Just fill out the Quote request form below and we will be happy to get you a quote ASAP.